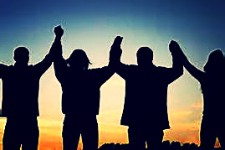 Prayer & its Importance!
Compassion for Pakistan is seeking a team across the world to pray for the needs of the organisation.
As a Christian based organisation it is important that we hear from the God of the bible and follow his instructions in every day life.
---
So why Pray?
1. It is a great privilege! Can you think of any greater honour than to have an audience with the one who rules over ALL creation?
We have been invited to talk with the one who put the stars in their place.
We are invited to seek counsel from the One who is truth and wisdom.
We are invited to sit down with the One who knows all things!
2. We should pray because we are in a fierce battle. Constantly we are warned of the Devil's intention to neutralize and demoralize us.
We are told that "our struggle is not against flesh and blood, but against the rulers, against the authorities, against the powers of this dark world and against the spiritual forces of evil in the heavenly realms." (Eph. 6:10).
We are in a battle and we need the help of God! The enemy has instructed his armies . . .when we neglect prayer, we go into battle unarmed.
Do you find it at all instructive that Jesus, the incarnate Son of God, found it necessary to pray?
If He did not feel He could face the battle in His own strength . . neither should we.
3. Prayer is a deterrent to sin in our lives. In the quiet times of private, honest prayer God exposes the rationalizations and the excuses that we use to cater to sin.
In prayer God holds a mirror up to our lives so we can see the way we really are. . .and repent.
4. Prayer makes a difference. I can't tell you how it "works" . . .I know that circumstances change when people pray.
Diseases are sometimes healed, strength is imparted, guidance is given, hearts are softened, needs are met. I know that when I pray for others it helps them. But I also know that when I pray, I am changed!
Our need for a dedicated Prayer Leader!
We are seeking a Prayer Ministry Leader who will have trustee status in our organisaton who will be required to establish a praying global network through Compassion for Pakistan and its network.